Zombie Apocalypse, Destin Florida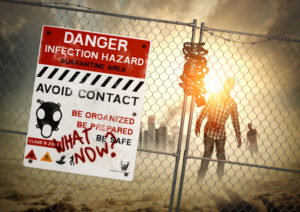 The zombie apocalypse is upon us and we desperately need a cure. Your team has been brought in to find that cure in our research facility. Unfortunately, after your team enters the facility and the door locks behind you, you quickly realize you were not brought in to find a cure. Your team was brought in as test subjects and in 60 minutes a gas will be released into the room. With that knowledge, you will frantically search through everything in the room looking for clues, hints, anything you can find that will ultimately lead to your escape in less that 60 minutes.
Do you have what it takes to escape? Click Book Now and find out.
This escape room holds up to six people. Have a bigger group? Our Crime Scene and Special Ops escape rooms, also in Destin hold up to 10 and 8 people each.
Check out our Facebook for all the latest

See what everyone is saying about Escape Zone 60!